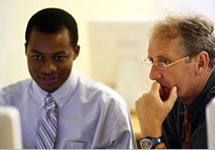 Online Courses
Choice, and flexibility are the key components of distance learning. Courses are broken down into modules, so one can decide when to attend class, logging on from the location of his or her choice and, in most cases, complete assignments at his or her own pace.

Support and Resources
Throughout their studies, students will be supported and followed by their teachers through conference calls, chats, forums, and messaging; enable them to continuously be up-to-dated in their work and understanding. They will also benefit from web course management system to access all the course materials they need for their studies.

Language groups
Translation for language groups can be added to the online programmes provided that a qualified and agreed translator is available.